---
Page 1 of 1 pages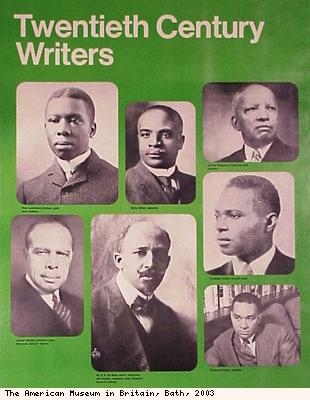 Description:
20th Century Writers poster.
A poster showing black writers of the 20th century.
Top left picture; Paul Lawrence Dunbar, poet and novelist.
Top middle picture; Kelly Miller, essayist.
Top right picture; Carter Woodson, historian and scholar.
Bottom left picture; James Weldon Johnson, poet, historian, NAACP leader – National Association for the Advancement of Colored People.
Bottom middle picture; WEB Du Bois, editor, historian, sociologist, essayist, poet, novelist, NAACP official.
Middle right picture; Countee Cullen, Harlem poet.
Bottom right picture; Richard Wright, novelist.
Contributed by John Judkyn Memorial.
Date: 20th century
Copyright: The American Museum in Britain, Bath
Object ID:74.179.13
Page 1 of 1 pages