---
Page 1 of 1 pages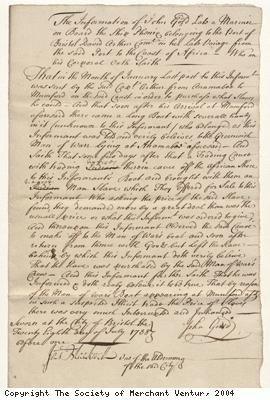 Description:
Affidavit, Gould, 1738, regarding Royal Navy ships trading slaves.
Rare mariner testimony; sheds light upon the relationship between the Royal Navy and African traders.
The Society of Merchant Venturers is a Bristol-based organisation, which was formed in 1552 as an elite body of merchants involved in overseas trade. The Society still exists today.
Creator: Gould
Date: 1738
Copyright: Copyright The Society of Merchant Venturers
Page 1 of 1 pages