---
Page 1 of 1 pages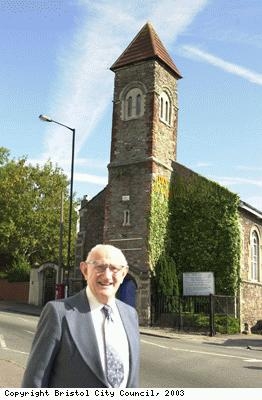 Description:
Amos Pike standing outside the Ivy Pentecostal Church, Ashley Hill, Bristol. Amos has been a member of the Ivy church since 1940.
In the 19th century, a runaway slave called Henry Parker came to Bristol. He became a lay preacher at the Ivy Church. Some of his descendants still live in the Bristol area.
The congregation of the Ivy Church today consists of black and white members, who meet and worship together.
With thanks to the Ivy Church for giving their permission.
Creator: Andy Cotton
Date: 2003
Copyright: Copyright BCC Museum
Page 1 of 1 pages