---
Page 1 of 1 pages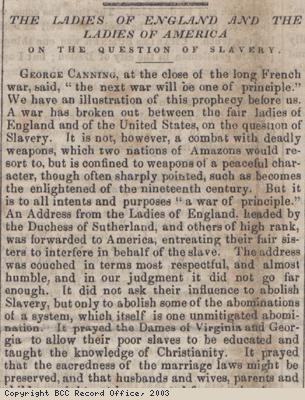 Description:
Detail from a New York newspaper against slavery, part of a collection made by Mr. Estlin from Bristol, who campaigned against slavery. The detail explains how not enough was done by the fair ladies of England and the United States to abolish slavery.
THE LADIES OF ENGLAND AND THE LADIES OF AMERICA ON THE QUESTION OF SLAVERY.
GEORGE CANNING, at the close of the long French war, said, the next war will be one of principle.We have an illustration of this prophecy before us.
A war has broken out between the fair ladies of England and of the United States, on the question of Slavery. It is not, however, a combat with deadly weapons, which two nations of Amazons would resort to, but is confined to weapons of a peaceful character, though often sharply pointed, such as becomes the enlightened of the nineteenth century. But it is to all intents and purposes a war of principle. An Address from the Ladies of England, headed by the Duchess of Sutherland, and others of high rank, was forwarded to America, entreating their fair sisters to interfere in behalf of the slave. The address was couched in terms most respectful, and almost humble, and in our judgement it did not go far enough. It did not ask their influence to abolish Slavery, but only to abolish some of the abominations of a system which itself is one unmitigated abomination. It prayed the dames of Virginia and Georgia to allow their poor slaves to be educated and taught the knowledge of Christianity and that the sacredness of the marriage laws might be preserved….
Date: unknown
Copyright: Copyright BCC Record Office
Object ID:17562/2b
Page 1 of 1 pages