---
Page 1 of 1 pages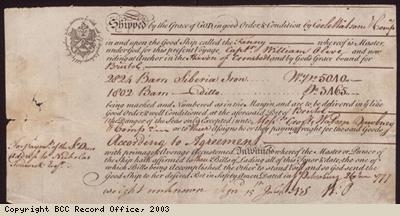 Description:
Bill of lading for a cargo of iron, being carried by William Olive on the ship Haven of Croustadt, from Petersburg to Bristol.
Iron was one of the trade goods carried to Africa. This cargo might have been re-exported to trade for slaves.
A bill of lading is an official record of goods being carried on a ship.
Date: 23 June - 23 July 1777
Copyright: Copyright BCC Record Office
Object ID:AC MU 2 17b
Page 1 of 1 pages