---
Page 1 of 1 pages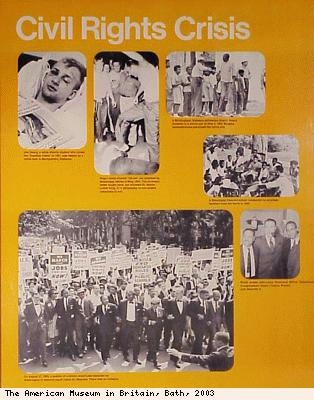 Description:
Civil Rights Crisis poster.
Top left picture
Jim Zwerg, a white divinity student who joined the freedom riders in 1961, was beaten by a white mob in Montgomery, Alabama.
Top middle picture
Black lunch-counter sit-ins are attacked by Mississippi whites in May, 1963. The sit-inners never fought back, but followed Dr Martin Luther King Jnrs philosophy of non-violet resistance to evil.
Top right picture
A Birmingham, Alabama policeman directs black students to a police van on May 6, 1963. Massive demonstrations paralysed the entire city.
Middle right picture
A Mississippi freedom school conducted by volunteer teachers from the North in 1964.
Bottom left picture
On August 27, 1963, a quarter of a million Americans marched on Washington to demand equal rights for black people. There was no violence.
Bottom right picture
Black power advocates Reverend Milton Galamison, Congressman Adam Clayton Powell and Malcolm X.
Contributed by John Judkyn Memorial.
Date: c1960s
Copyright: The American Museum in Britain, Bath
Object ID:74.179.15
Page 1 of 1 pages