---
Page 1 of 1 pages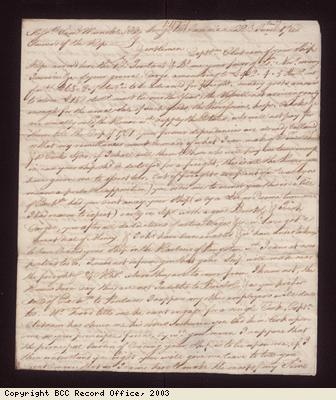 Description:
Correspondence.William Clutsam, commander of the ship Hope , from Kingston, Jamaica, to Samual Munckley and Co, owners.
Clutson writes about difficulty finding sugar for the return journey as, the houses here say they are not indebted to Bristol, so they are not selling to Bristol.
Also from Ford and Delpratt, agents in Kingston, re cargo of Hope , also rebellion of negroes.
Samuel Munckley was a ship owner and merchant of Bristol, 1720 – 1802.
The language used to describe people of African descent in the 18th, 19th and 20th centuries is unacceptable in today's terms. We cannot avoid using this language in its original context. To change the words would impose 20th century attitudes on history.
Date: 22 Jan 1760 - 12 June 1760
Copyright: Copyright BCC Record Office
Object ID:AC/MU 1 11 (b) i
Page 1 of 1 pages