---
Page 1 of 1 pages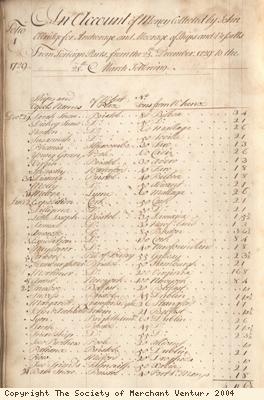 Description:
Custom house accounts book for Anchorage and Moorage payments, 1729 – 1730.
Ships paid a fee for mooring at the dockside. Ships on this page include the Little Joseph from Jamaica, the Mortimer from Virginia, the Acent from New York and the Amoretto from Boston.
The Society of Merchant Venturers is a Bristol-based organisation, which was formed in 1552 as an elite body of merchants involved in overseas trade. The Society still exists today.
Date: 1729 - 1730
Copyright: Copyright The Society of Merchant Venturers
Page 1 of 1 pages