---
Page 1 of 1 pages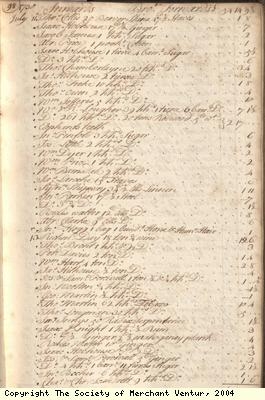 Description:
Custom house accounts for wharfage payments, 1730.
Walter and Richard Lougher imported 261 hogsheads of sugar, 20 tons of redwood and 5 cwt of ivory, paying £2.17 duty. Tropical hardwoods and ivory were often bought along with slaves in Africa, and came to Bristol via the Americas, where the slaves were sold and sugar bought.
The Society of Merchant Venturers is a Bristol-based organisation, which was formed in 1552 as an elite body of merchants involved in overseas trade. The Society still exists today.
Date: 1730
Copyright: Copyright The Society of Merchant Venturers
Page 1 of 1 pages