---
Page 1 of 1 pages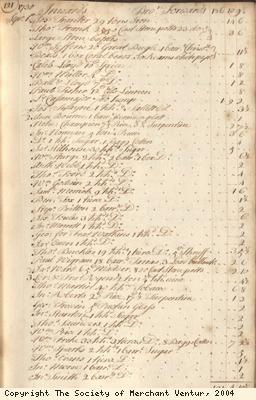 Description:
Custom house accounts for wharfage payments, 1730.
William Jefferies imported a cargo of great bugle beads, coral beads and other glass beads. These were probably intended for the trade cargo of a slaving voyage. Coral beads were especially prized in Benin, in West Africa.
The Society of Merchant Venturers is a Bristol-based organisation, which was formed in 1552 as an elite body of merchants involved in overseas trade. The Society still exists today.
Date: 1730
Copyright: Copyright The Society of Merchant Venturers
Page 1 of 1 pages