---
Page 1 of 1 pages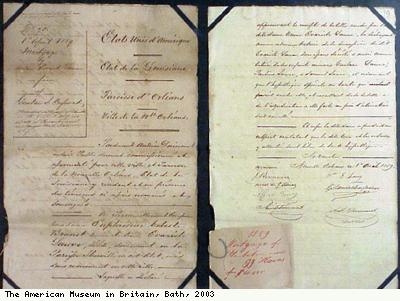 Description:
Detail of mortgage of plantation and 99 slaves.
Mortgage by widow Evariste Lauve in favour of Gustave S Dufossat.
Evariste Lauve owed Gustave S Dufossat about £600.
To settle the debts, she agreed payment by a mortgage on two properties. In addition she mortgaged 99 slaves.
Recorded in Parish of Iberville on the 6 April 1859, state of Louisiana – Parish of Orleans, USA.
Contributed by John Judkyn Memorial.
Copyright: The American Museum in Britain, Bath
Object ID:72.210(detail)
Page 1 of 1 pages