---
Page 1 of 1 pages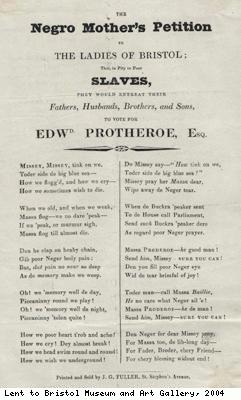 Description:
Election handbill for Edward Protheroe, addressed to the ladies of Bristol to encourage their menfolk to vote for Protheroe.
Poem from a Negro Mother on cruel treatment of slaves.The poem says that Baillie does not care how slaves are treated, and that Protheroe is de man .
The handbill may have been for the 1830 election, where Protheroe and Baillie ran against eachother. Protheroe supported the emancipation (ultimate freedom) of slaves, and Baillie was against it.
The handbill is taken from the scrapbook compiled by Anna-Maria Pinney, one of the Pinney family, started in 1828.
The language used to describe people of African descent in the 18th, 19th and 20th centuries is unacceptable in today's terms. We cannot avoid using this language in its original context. To change the words would impose 20th century attitudes on history.
Lent from a private collection to Bristol Museums.
Date: 1830?
Copyright: Lent to Bristol Museum and Art Gallery
Page 1 of 1 pages