---
Page 1 of 1 pages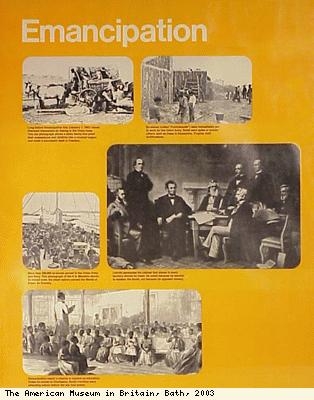 Description:
Poster: Emancipation (end of slavery).
Top left picture
Long before Emancipation Day (January 1, 1863), slaves liberated themselves by fleeing to the Union lines. This old photograph shows a slave family that piled their possessions and children into a covered wagon and made a successful dash for freedom.
Top right picture
Ex-slaves (called Contrabands ) were immediately put to work for the Union Army. Some were spies or scouts: others, such as these in Alexandria, Virginia USA, built fortifications.
Middle left picture
More than 200,000 ex-slaves served in the Union Army and Navy. This photograph of the US Mendota shows its mixed crew. Six black sailors earned the Medal of Honor for bravery.
Middle right picture
Lincoln persuades his cabinet that slaves in every territory should be freed. He acted because he wanted to weaken the South, not because he opposed slavery.
Bottom picture
Emancipation meant a chance to receive an education. These ex-slaves in Charleston, South Carolina USA were attending school before the war had ended.
Contributed by John Judkyn Memorial
Date: c1860s
Copyright: The American Museum in Britain, Bath
Object ID:74.179.2
Page 1 of 1 pages