---
Page 1 of 1 pages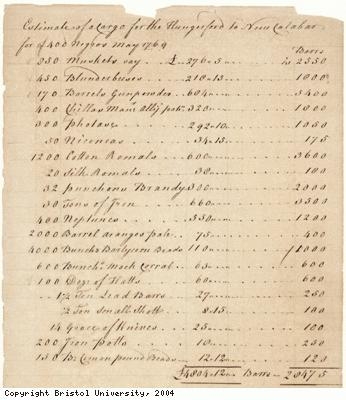 Description:
Papers of the Duncomb family.
Estimate of a cargo for the ship, the Hungerford, to New Calabar for 400 Negroes .
Cargo includes an estimated 850 muskets, 450 blunderbuses, 170 barrels of gunpowder, 2002 pieces of cloth, 400 brass pans (Neptunes ), beads, hats, lead, shot for the guns, knives and iron pots. Total estimated value, £4804 125 0d, equivalent to 28975 barrs , the unit of currency used in trade in West Africa.
The language used to describe people of African descent in the 18th, 19th and 20th centuries is unacceptable in today's terms. We cannot avoid using this language in its original context. To change the words would impose 20th century attitudes on history.
Date: May 1769
Copyright: Copyright Bristol University
Object ID:DM 15
Page 1 of 1 pages