---
Page 1 of 1 pages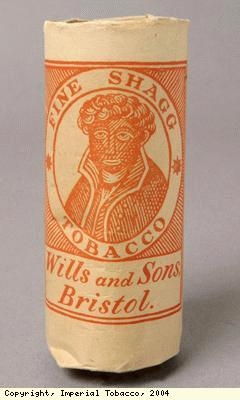 Description:
One side of a packet of Wills and Sons' Fine Shagg tobacco.
"Even after the freeing of slaves in America in 1865, many African Americans continued to work on the tobacco and cotton plantations where they had previously worked as slaves. This, and the attitude to black people generally, was reflected in the continued use of the image of a black man or woman on British tobacco packaging and advertising until about 1960."
Reproduced with kind permission of Wills (now Imperial Tobacco).
Creator: Wills & Sons
Date: 20th century
Copyright: Copyright, Imperial Tobacco
Object ID:Wills Collection I 15/4
Page 1 of 1 pages