---
Page 1 of 1 pages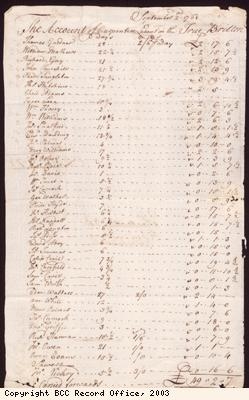 Description:
Invoice for work done fitting out the ship True Briton , Samuel Munckley and Co owners.
Fitting out meant making sure the ship had all necessary items in place, repairs done etc so that it was fit for the voyage.
This voucher shows the typical costs of carpentry on the ship, done by William Tombs and Co.
Samuel Munckley was a ship owner and merchant of Bristol, 1720 – 1802.
Date: 18 June - November 25 1761
Copyright: Copyright BCC Record Office
Object ID:AC/MU 3 4i - i
Page 1 of 1 pages