---
Page 1 of 1 pages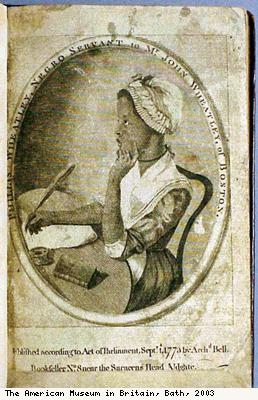 Description:
Frontspiece from book called Poems on Various Subjects, Religious and Moral by Phillis Wheatley, Negro Servant to Mr John Wheatly of Boston in New England.
Phillis Wheatley was enslaved at the age of about eight, and taken from Africa to America. She was taught to read by the Wheatley family, learning very fast and began to write. The book begins with a list of reputable people from Boston certifying that the poems were written by Phillis Wheatley, as many people did not believe that a black slave could write so well. Her poems often reflect her adopted Christian religion. This is one of the few portraits of a named African woman from this era.
The language used to describe people of African descent in the 18th, 19th and 20th centuries is unacceptable in today's terms. We cannot avoid using this language in its original context. To change the words would impose 20th century attitudes on history.
Contributed by John Judkyn Memorial.
Creator: Philis Wheatley
Date: 1773
Copyright: The American Museum in Britain, Bath
Object ID:73.236
Page 1 of 1 pages