---
Page 1 of 1 pages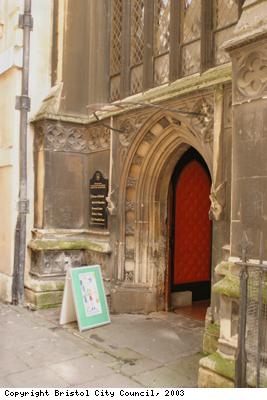 Description:
Photograph. Now an Anglican centre for religious education and open by appointment only. This ancient church contains the tomb of Edward Colston (1636 – 1721). He was the son of the merchant and sugar importer, William Colston, and in his early years lived in nearby Small Street. In 1683 he became a member of the Merchants Hall and listed as a West India merchant who traded primarily in St Kitts. He was also a member of the London-based Royal African Company which had the monopoly on the slave trade before it was opened up to Bristol and other ports. He amassed his fortune by owning a large fleet of ships trading in sugar and was part-owner of a sugar house by St Peters Church, Castle Park.
Colston helped to fund the restoration of the tower at All Saints in 1716. This may account for the fact that inscribed on his tomb is a list of all his charitable bequests but no mention of his involvement.in the slave trade, nor of his trading interests in the sugar plantations of the West Indies.
With thanks to the authors of the Slave Trade Trail around Central Bristol, Madge Dresser, Caletta Jordan, Doreen Taylor.
Creator: David Emeney
Date: unknown
Copyright: Copyright BCC Museum
Page 1 of 1 pages