---
Page 1 of 1 pages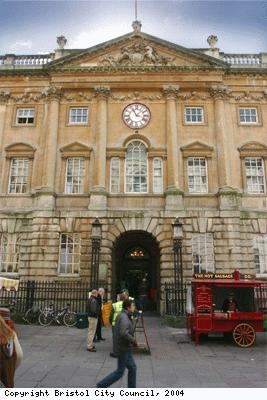 Description:
Historic site, Corn Exchange, Corn Street. This was built in 1753, replacing less grand facilities on the site for Bristol's merchants. Despite its name, it was intended for merchants of all types, and a number directly involved in the West African and Caribbean trade used it for business transactions. However, it seems that most African and American merchants preferred the more informal atmosphere of the nearby coffee houses to do business.
Inside the Corn Exchange in the main chamber are emblems representing Asia, Africa, and America.(The female figure of America wears a head-dress of tobacco leaves).On the outside of the building are carvings of African, American, Asia and European figures and animals, again symbols of Bristol's foreign trade.
With thanks to the authors of the Slave Trade Trail around Central Bristol, Madge Dresser, Caletta Jordan, Doreen Taylor.
Creator: David Emeney
Date: 2003
Copyright: Copyright Bristol City Council
Page 1 of 1 pages