---
Page 1 of 1 pages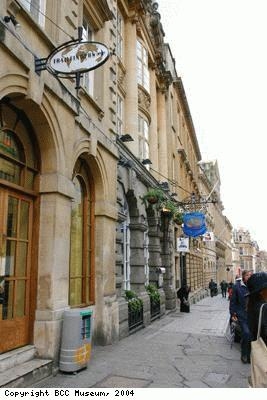 Description:
Historic site, Corn Street, Bristol. The trade in Africans and in the slave-produced commodities from America and the Caribbean (such as sugar, chocolate, coffee and cotton) meant more money came to Bristol.This money had to be administered. Loans were needed, slaving and cargo ships had to be insured, as did the sugar refineries and warehouses where fire was a constant threat. Goods had to be sold off and commission needed to be paid. In this way, financial services could be said to have been stimulated by the success of this trade. By the mid-18th century, Corn Street became a focus for the city�s banks, insurance offices and coffee houses.
With thanks to the authors of the Slave Trade Trail around Central Bristol, Madge Dresser, Caletta Jordan, Doreen Taylor.
Chocolate was first used as a drink, sweetened with sugar to mask the bitter flavour of the chocolate. Later it was used for making eating chocolate. At this period, most people drank beer, wine or spirits. Water was not safe to drink, tea coffee and chocolate were expensive. Quakers promoted drinking chocolate as an alternative to alcohol.
Creator: David Emeney
Date: 2003
Copyright: Copyright BCC Museum
Page 1 of 1 pages