---
Page 1 of 1 pages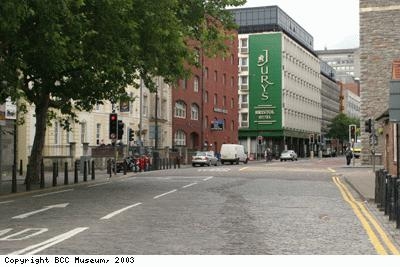 Description:
Historic site, Prince Street. Little of the original largely 18th-century street remains, but this was once a busy commercial and residential road. Warehouses by the water (near The Grove) stored goods for ships plying the West African coast and the Americas. There is a story that slaves were kept in the warehouse cellars, though this seems unlikely since British traders sold most of their slaves in the Caribbean and Americas before returning home.
On the left-hand side of the street, the terrace now housing the Shakespeare pub was originally built for three Bristol merchants. Two of them (Combe and Becher) invested in slaving ships, as did other early inhabitants such as Henry Tonge and Thomas Coster. The African House (which no longer exists), was a tavern or coffee house which once auctioned stolen goods from a captured French ship in 1758. Towards the far end of the street stood the Assembly Rooms, where merchants could enjoy country dancing at 8.00pm. By 1830 it was the probable site of a stormy meeting between Caribbean merchants and the anti-slavery party who argued for the freedom of slaves.
With thanks to the authors of the Slave Trade Trail around Central Bristol, Madge Dresser, Caletta Jordan, Doreen Taylor.
Date: 18th Century
Copyright: Copyright BCC Museum
Page 1 of 1 pages