---
Page 1 of 1 pages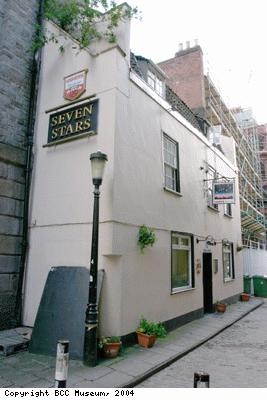 Description:
Historic site, Seven Stars Pub, near Victoria Street, Bristol. In the late 1780s the Quaker anti-slavery campaigner, Thomas Clarkson, visited this pub when investigating Bristol's involvement in the slave trade. It is reported that the landlord refused
to associate with the slave ship captains and crew. He showed Clarkson around other pubs that helped recruit sailors for the trade. Clarkson uncovered the awful conditions suffered by British sailors as well as the horrendous suffering of the slaves themselves.
Initially public disgust of the slave trade stemmed from learning about the sailors' plight, rather than that of the slaves. Eventually the anti-slavery campaigns used both the sailors' and the slaves' experiences as evidence against the trade.Clarkson looked at Muster Rolls (sources of information about the crew on ships). From these he found that the death rates of Bristol slave-ship crews were very heavy in comparison to other cities involved in the slave trade.
With thanks to the authors of the Slave Trade Trail around Central Bristol, Madge Dresser, Caletta Jordan, Doreen Taylor.
Creator: David Emeney
Date: 2004
Copyright: Copyright BCC Museum
Page 1 of 1 pages