---
Page 1 of 1 pages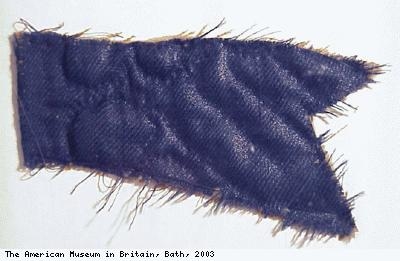 Description:
Piece of indigo cloth.
Indigo is a dark blue dye, native to ancient India and Egypt.
It was first planted in America in the mid 1600s. Planters believed it would yield ten times more profit than tobacco, thus enabling them to take over India's indigo trade.
It was South Carolina's main crop from late 1740s – late 1700's/early 1800s.
Rice took over during the War of Independence, in the late mid 1700s, and by the end of the 18th century, cotton had become Carolina's main crop.
Contributed by John Judkyn Memorial
Date: c1700s
Copyright: The American Museum in Britain, Bath
Object ID:314?
Page 1 of 1 pages