---
Page 1 of 1 pages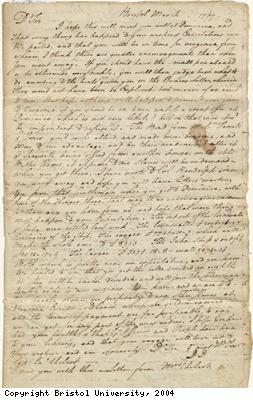 Description:
Papers of the Duncomb family. Taken from copies of letters from David Duncombe(?) in Bristol, 1767, to the captains of the ships, the Cornwall and the Juba, advising on trade etc.
First letter.
Addressed to captain in Dominica, advising him to go on to Virginia unless he can get a very good price in Antigua. Includes a note on the outset costs of the Cornwall's voyage (£2006 16s 9d exclusive of the ship).
(The total price of the cargo and the ship was £5746 10s 9d).
Date: 1767
Copyright: Copyright Bristol University
Object ID:DM 1061
Page 1 of 1 pages