---
Page 1 of 1 pages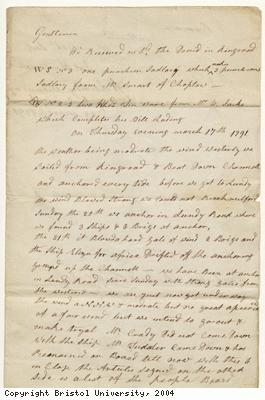 Description:
Papers of the Duncomb family.
Letter from James Henderson, of the ship, the David , to the owners (Lowbridge and Richard Bright), informing them that the last goods have been loaded and the ship delayed by the bad weather. Includes a list of those on board.
For letter detail, see id 2894. For list of those on board, see id 2895.
Date: 23 March 1791
Copyright: Copyright Bristol University
Object ID:DM 1061
Page 1 of 1 pages