---
Page 1 of 1 pages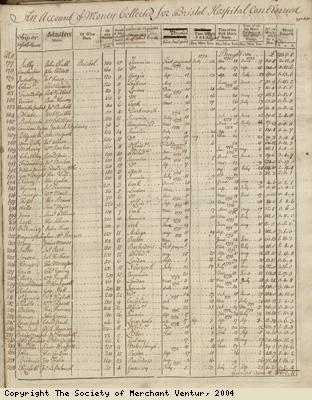 Description:
Page 2 from the Accounts book of The Sailors' Hospital; The Society of Merchant Venturers' archive.
1772 – 1773. Entry numbers 177 – 222. (230 ships in total)
Many of the ships listed here are returning from American ports such as Georgia, Newfoundland, Philadelphia, Boston, New York and Carolina. Most would have been trading manufactured goods direct to the Americas, not slaves via Africa.
The Society of Merchant Venturers is a Bristol-based organisation, which was formed in 1552 as an elite body of merchants involved in overseas trade. The Society still exists today
Date: 1772 - 1773
Copyright: Copyright The Society of Merchant Venturers
Page 1 of 1 pages