---
Page 1 of 1 pages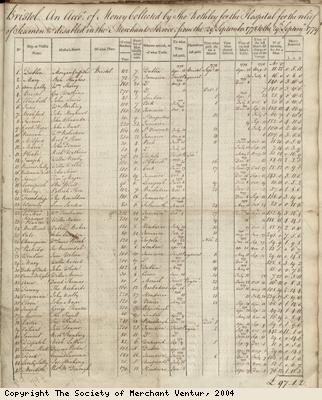 Description:
Page 3 from the Accounts book of The Sailors' Hospital; The Society of Merchant Venturers' archive.
1778 – 1779. Entry numbers 1 – 45. (145 ships in total).
The American War of Independence and war with France, Spain and Holland affected trade. Only 2 of the 145 ships in 1778 – 1779 went to the USA, and none to France. The majority are going to the Caribbean islands of English and Irish ports.
The Society of Merchant Venturers is a Bristol-based organisation, which was formed in 1552 as an elite body of merchants involved in overseas trade. The Society still exists today.
Date: 1778 - 1779
Copyright: Copyright The Society of Merchant Venturers
Page 1 of 1 pages