---
Page 1 of 1 pages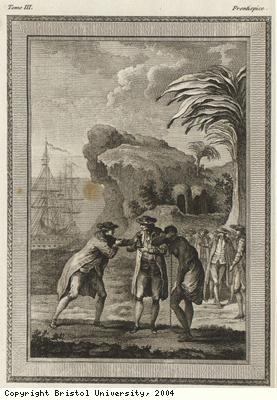 Description:
Histoire philosophique et politique, des e tablissemens et du commerce des Europe ens dans les deux Indes, volume 3. Written by Raynal, Guillaume Thomas Francois 1713-1796. Published Geneva, 1775.
Frontispiece showing the story of Inkle and Yarico. The image shows Inkle selling into slavery the Amerindian woman who rescued him from a shipwreck, and with whom he fell in love.
Inkle and Yarico is a comic opera, which was written by George Colman the Younger in 1787.It is based on a supposedly true story told in Richard Ligons True and Exact History of the Island of Barbados.
A young man was shipwrecked on the South American coast and his life was saved by a young Indian woman.
He got off the island, taking her with him, and then sold her into slavery in Barbados.
This story was romanticised by Steele, writing in the Spectator in 1711.
Colman adapted Steele's story into his comic opera. It was very popular and was performed many times at different London theatres.
In Colman's version, Thomas Inkle, a young Englishman, is taking his fiance out to her father, the Governor of Barbados.
He is lost overboard with his servant and is marooned on an island.
They are saved from the cannibal locals by a young Indian woman, Yarico, and her servant.
Inkle and Yarico fall in love. Inkle and Yarico's servants also fall in love with eachother.
Inkle promises undying love to Yarico.
They are taken off the island by a British boat and taken to Barbados.
There, Inkle is reintroduced to civilised life and realises his position.
He applies economic theory rather than love to his situation, by choosing his fiance and selling Yarico as a slave.
His servant refuses to sell his Indian lover as a slave.
Inkle is then humiliated for his ingratatitude and betrayal of Yarico, repents his behaviour and marries her.
Date: 1775
Copyright: Copyright Bristol University
Page 1 of 1 pages