---
Page 1 of 1 pages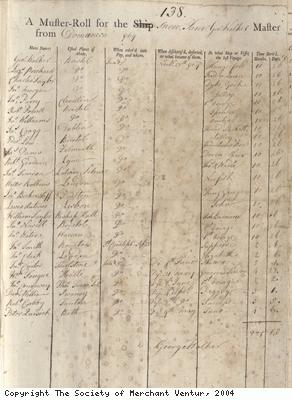 Description:
Ships' muster rolls, 29th September 1769 – 29th September 1770; Society of Merchant Venturers' archive.
Muster roll no: 138.
Muster roll for the slave ship, the Jane, which sailed from Bristol to Africa, then to Barbados in the Caribbean. The ship had 73 slaves on board when it arrived in Barbados. 1768.
The Society of Merchant Venturers is a Bristol-based organisation, which was formed in 1552 as an elite body of merchants involved in overseas trade. The Society still exists today.
Date: 1768
Copyright: Copyright The Society of Merchant Venturers
Page 1 of 1 pages