---
Page 1 of 1 pages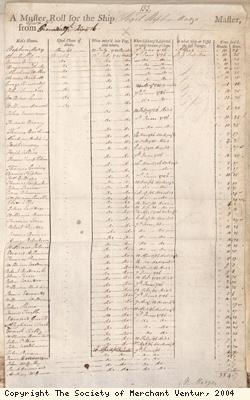 Description:
Ships' muster rolls from 1767 – 1768; Society of Merchant Venturers' archive.
Muster roll no: 133.
Muster roll for the ship, the Pearl , sailing from Africa and Grenada, in the Caribbean, 1785.
The Pearl sailed for Africa with orders to buy 550 slaves. 437 slaves were bought at Bonny, West Africa, and 32 died during The Middle Passage. 385 were sold for an average of £35 13s 9d each (equivalent to about £1,818 today). Another seven slaves, obviously in a very bad conition, were sold at vendue (publically to the highest bidder) for £50 for all seven (about £2,500 today).
The muster roll is a list of all crew signed on for all or part of a voyage, which was used to calculate the money each man should pay to the Sailors' Hospital Fund (insurance).
The Society of Merchant Venturers is a Bristol-based organisation, which was formed in 1552 as an elite body of merchants involved in overseas trade. The Society still exists today.
Date: 1785
Copyright: Copyright The Society of Merchant Venturers
Page 1 of 1 pages