---
Page 1 of 1 pages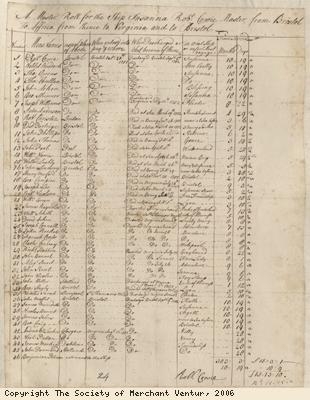 Description:
Ships' muster rolls from 1752 – 1753; Society of Merchant Venturers' archive.
Muster roll no: 24.
Muster roll for the ship, the Susanna , sailing from Bristol to Africa and from thence to Virginia and to Bristol, 1751.
The Susanna sailed for Bonny and reports suggest that 433 slaves were purchased. The Susanna had a very bad voyage, sickness went through the crowded slaves and only 233 survived to be sold at Virginia. 13 of the crew, including the doctor and his assistant, also died.
The muster roll is a list of all crew signed on for all or part of a voyage, which was used to calculate the money each man should pay to the Sailors' Hospital Fund (insurance).
The Society of Merchant Venturers is a Bristol-based organisation, which was formed in 1552 as an elite body of merchants involved in overseas trade. The Society still exists today.
Date: 1751
Copyright: Copyright The Society of Merchant Venturers
Page 1 of 1 pages