---
Page 1 of 1 pages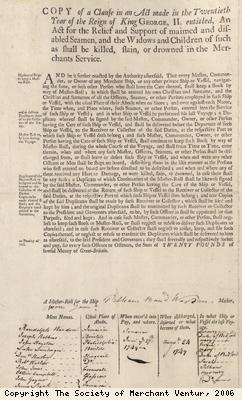 Description:
Ships' muster rolls from 1749 – 1750; Society of Merchant Venturers' archive.
Muster roll no: 5.
Muster roll for the ship, the Pelham, sailing from Jamaica, 1749.
The muster roll for the Pelham is printed with an extract from the Act of Parliament. This Act set up the Seaman's Hospital Fund and was to provide support for injured sailors, their widows and families, through an insurance fund paid for by the sailors. To calculate the money owed by each man, the Act required the master of the ship to keep a muster roll of all the crew, and how many days they served on board. The fine for not keeping a muster roll, or not delivering it to the collector of Duties in port, was £20 (about £1000 at today's values).
The muster roll is a list of all crew signed on for all or part of a voyage, which was used to calculate the money each man should pay to the Sailors' Hospital Fund (insurance).
The Society of Merchant Venturers is a Bristol-based organisation, which was formed in 1552 as an elite body of merchants involved in overseas trade. The Society still exists today.
Date: 1749
Copyright: Copyright The Society of Merchant Venturers
Page 1 of 1 pages