---
Page 1 of 1 pages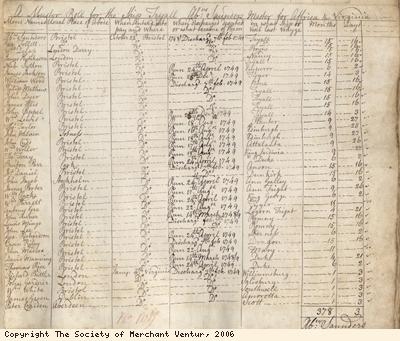 Description:
Ships' muster rolls from 1748 – 1749; Society of Merchant Venturers' archive.
Muster roll no: 109.
Muster roll for the ship, the Tryall, sailing for Africa to Virginia, USA, 1748.
The Tryall sailed from Angola in West Africa with orders to buy 400 slaves. The number actually bought is not known, but 356 slaves were sold at Virginia. The Tryall was a fairly small ship of 90 tons: under the Dolben Act of 1788, introduced to improve conditions of slaves, she could have carried only about 90. The Dolben Act limited the number of slaves carried according to the tonnage of the ship. Amongst the crew is one Lewis Mingo of Bristol. The name Mingo suggests that he was a free black sailor.
The muster roll is a list of all crew signed on for all or part of a voyage, which was used to calculate the money each man should pay to the Sailors' Hospital Fund (insurance).
The Society of Merchant Venturers is a Bristol-based organisation, which was formed in 1552 as an elite body of merchants involved in overseas trade. The Society still exists today.
Date: 1748
Copyright: Copyright The Society of Merchant Venturers
Page 1 of 1 pages