---
Page 1 of 1 pages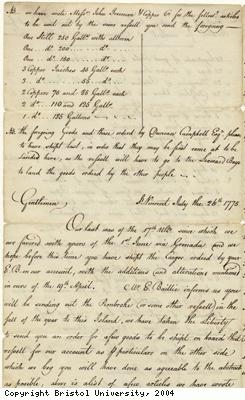 Description:
Papers of the Duncomb family.
Note of goods to be shipped from Bristol, on the ship, the Pembroke , to Garaway and Baillie, in St Vincent.
Includes oats, potatoes, cheese, raisins, pickled bacon, clay tobacco pipes, beer, candles, beef, refined sugar, lead, a still for making rum and boiling coppers for boiling. Also a note of the goods shipped to Bristol; sugar and rum, and bills due.
Date: 26th July 1775
Copyright: Copyright Bristol University
Page 1 of 1 pages