---
Page 1 of 1 pages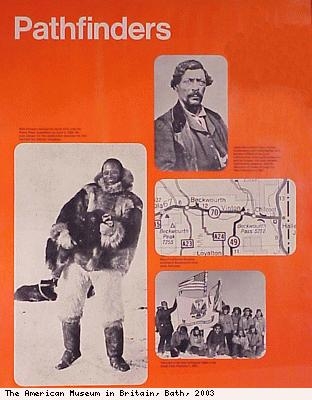 Description:
Poster: Pathfinders.
Bottom left picture
Matt Henson reached the North Pole with the Peary Polar expedition on April 6, 1909. He was chosen for the exploration because he had learned the Eskimo language.
Top right picture
James Beckwourth was a daring frontiersman and Indian fighter who became a Chief of the Crow Indians, Army scout, gold prospector and fur trapper. His most valuable contribution, however, was the discovery of a pass through the Sierra Nevadas in 1850.
Middle right picture
Map of California showing location of Beckwourth town, peak and pass.
Bottom right picture
Crew of the first helicopter flight to the South Pole, February 4, 1963.
Contributed by John Judkyn Memorial.
Date: 1800s
Copyright: The American Museum in Britain, Bath
Object ID:74.179.12
Page 1 of 1 pages