---
Page 1 of 1 pages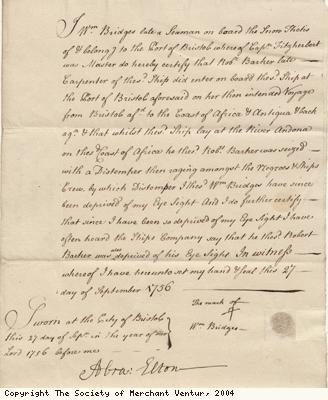 Description:
Petition for Robert Barker, carpenter on the ship the Thetis, for financial help from the Seamens' Hospital Fund. The Fund was the result of an act of Parliament in 1747.
Barker had lost his sight on a slaving voyage to Africa, and was granted a pension of 3/6d a week [17 1/2 p] although this was later withdrawn because he made public accusations of ill-treatment against the captain. Despite several appeals, his pension was never reinstated. [see also id 818]
The Society of Merchant Venturers managed the National Insurance Scheme for Bristol, so petitions for help were addressed to them.
The Society of Merchant Venturers is a Bristol-based organisation, which was formed in 1552 as an elite body of merchants involved in overseas trade. The Society still exists today.
Date: 27th Sept 1756
Copyright: Copyright The Society of Merchant Venturers
Object ID:50e
Page 1 of 1 pages