---
Page 1 of 1 pages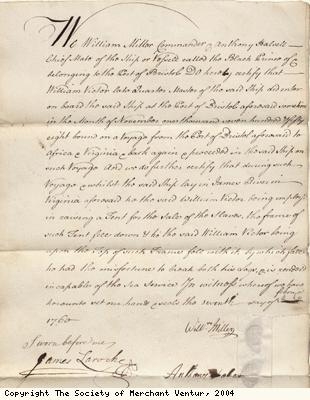 Description:
Petition for William Victor, of the ship, the Black Prince, for Financial Help from the Seamens' Hospital Fund. The Fund was the result of an act of Parliament in 1747. He broke his legs in a fall from an awning being erected on the ship for the sale of the slaves in Virginia.
The Society of Merchant Venturers managed the National Insurance Scheme for Bristol, so petitions for help were addressed to them.
The Society of Merchant Venturers is a Bristol-based organisation, which was formed in 1552 as an elite body of merchants involved in overseas trade. The Society still exists today.
Date: 27th Feb 1760
Copyright: Copyright The Society of Merchant Venturers
Page 1 of 1 pages