---
Page 1 of 1 pages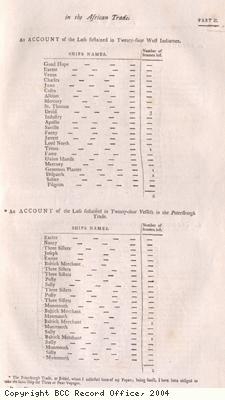 Description:
Lords Committee of Council reports, 1789.
The Lords Committee of Council was a Parliamentary Committee.
The title of the reports reads: Report of the Lords Committee of Council appointed for the consideration of all matters concerning the present state of the Trade to Africa and particularly the Trade in Slaves …
Table of crew deaths on West India ships (Britain to the Caribbean), by Thomas Clarkson.
Clarkson was the driving force behind the campaign to end slavery, which began from a concern with the harsh conditions suffered by ordinary seamen on slaving voyages. He wrote and spoke about the need for abolition, and in researching his subject he came to Bristol in 1787.
Date: 1789
Copyright: Copyright BCC Record Office
Page 1 of 1 pages