---
Page 1 of 1 pages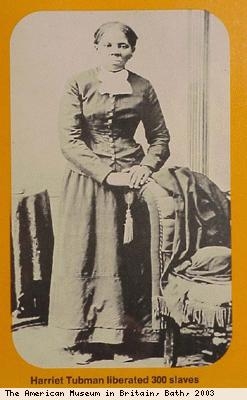 Description:
Slave Resistance poster (detail of top right picture).
Enslaved Africans often resisted, or rebelled against, their status.
The caption below the detail reads:
Harriet Tubman liberated 300 slaves.
Harriet Tubman liberated (or freed) 300 slaves in nineteen trips to the South. General Tubman lived until 1913, devoting her life to helping others.
Contributed by John Judkyn Memorial.
Copyright: The American Museum in Britain, Bath
Object ID:74.179.4
Page 1 of 1 pages