---
Page 1 of 1 pages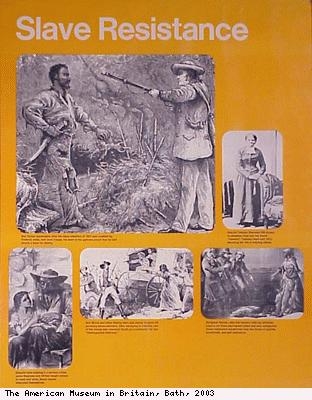 Description:
Poster: Slave Resistance .
Resistance means a refusal to comply (often secretively) with the established order or authority.
People who were slaves were sometimes known to resist their position, which was usually enforced.
Top left picture
Nat Turner surrenders, after his slave rebellion of 1831 was crushed by the Federal, state and local troops. He went to the gallows proud that he had struck a blow for liberty.
Top right picture
Harriet Tubman liberated 300 slaves in nineteen trips to the South. General Tubman lived until 1913, devoting her life to helping others.
Bottom left picture
Despite laws making it a serious crime, some people taught slaves to read and write. Some slaves educated themselves.
Bottom middle picture
Ann Wood and other fleeing teenage slaves frighten off pursuing slave-catchers. After escaping to Canada, one of the young men returned south as a conductor for the Underground Railroad .
Bottom right picture
Margaret Garner, who fled slavery with her children, tried to kill them and herself when she was recaptured. Slave resistance sometimes took the form of suicide, infanticide (killing of infants) and self-mutilation.
Contributed by John Judkyn Memorial.
Date: unknown
Copyright: The American Museum in Britain, Bath
Object ID:74.179.4
Page 1 of 1 pages