---
Page 1 of 1 pages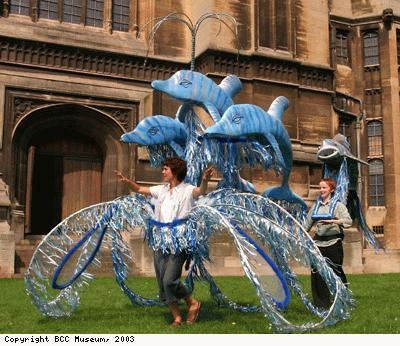 Description:
Dolphin and King Fish costumes used in the St Pauls Carnival, Bristol, in 2000.
The 33rd St Pauls Carnival in 2000 took Trade as its theme. It explored what trade means to Africa and people of the African diaspora. (Diaspora refers to the situation of any group of people dispersed (or spread) by force or voluntarily, throughout the world).
Masquerade, or Carnival, originated in Africa and was taken to the Caribbean via the slave trade. Today it is practised widely throughout the African diaspora in places such as Bristol, where there is a large African-Caribbean community.
The Dolphin costume represents the crossing of the ocean accompanied by dolphins. Following behind is the King Fish, and behind that would be a host of smaller fish. The costumes were danced around the streets of St Pauls in Bristol, swaying and shimmering as the dancers moved.
The costumes had two more outings in 2000, having been invited to join the masquerades at the Glastonbury Festival in Somerset and Lewisham Carnival, in South London.
Everyone involved felt that the costumes for 2000 were too good to throw away once Carnival was over, so the City Museum and Art Gallery acquired them for the citys collections.
Purchased from St Pauls Carnival Management Committee
Date: 2003
Copyright: Copyright BCC Museum
Page 1 of 1 pages