---
Page 1 of 1 pages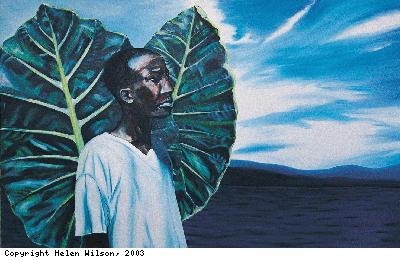 Description:
The Boy With Wings, a painting by Helen Wilson.
This painting is of a boy called Christian, who became a friend of mine in Rwanda. I met his adopted mother and brothers in Kigali. He represents the teenagers of Rwanda, who embody hope for the country�s future. When I photographed Christian in front of a banana tree, the broad leaves looked like angel�s wings attached to his body. In the background I have painted Lake Kivu, which is beautiful and seemed as wide as an ocean. This painting represents the spirit of Rwanda, and its living beauty.
Helen Wilson is an artist who lives and works in Bristol.
In 2002, she visited Rwanda, where she met surviviors of the genocide in 1994.
Genocide means the planned or ordered killing of a racial or cultural group.
As a result of this visit, Helen returned,
…with a clear mission: to express through my artwork as much about Rwanda as it is today. I would paint the Rwanda I had seen, the beauty and the tragedy, and the dignity and grace of its people in the aftermath of the genocide.
These paintings formed a temporary display at the Bristol Museum and Art Gallery in 2003, called Making Sense – a Rwandan Story.
Date: 2002 - 2003
Copyright: Copyright Helen Wilson
Page 1 of 1 pages