---
Page 1 of 1 pages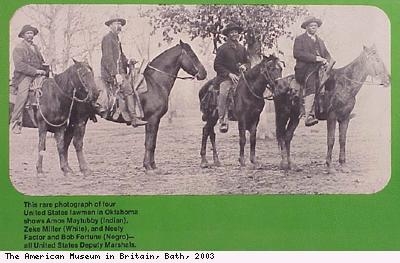 Description:
The Last Frontier poster (detail).
This rare photograph of four United States lawmen in Oklahoma shows Amos Maytubby (Indian), Zeke Millar (White), and Neely Factor and Bob Fortune (Negro) – all United States Deputy Marshals.
Contributed by John Judkyn Memorial.
The language used to describe people of African descent in the 18th, 19th and 20th centuries is unacceptable in todays terms. We cannot avoid using this language in its original context. To change the words would impose 20th century attitudes on history.
Date: c late 1800s
Copyright: The American Museum in Britain, Bath
Object ID:74.179.8
Page 1 of 1 pages