---
Page 1 of 1 pages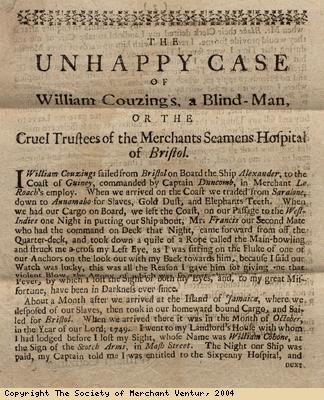 Description:
The unhappy case of William Couzings
A leaflet published to complain at the treatment of a blind sailor by the Sailors Hospital Fund administered by the Society of Merchant Venturers. Cuzzins or Couzings had been awarded a pension after he lost his sight, but the Trustees later stopped it. Cuzzins published a leaflet complaining about this, presumably in the hopes of getting public support for the restoration of the pension.
The Society of Merchant Venturers is a Bristol-based organisation, which was formed in 1552 as an elite body of merchants involved in overseas trade. The Society still exists today.
Creator: Seamens' Hospital
Date: 1756-60
Copyright: Copyright The Society of Merchant Venturers
Object ID:50J
Page 1 of 1 pages