---
Page 1 of 1 pages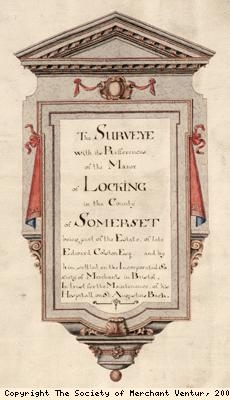 Description:
Title page of survey of Manor of Locking, Somerset. 1745.
Edward Colston, London merchant, was born in Bristol and gave much of his fortune to Bristol charities. He was a member of the London-based Royal African Society, which held the monopoly on the trade in ensalved Africans until 1698.
The Society of Merchant Venturers is a Bristol-based organisation, which was formed in 1552 as an elite body of merchants involved in overseas trade. The Society still exists today.
Date: 1745
Copyright: Copyright The Society of Merchant Venturers
Page 1 of 1 pages