---
Page 1 of 1 pages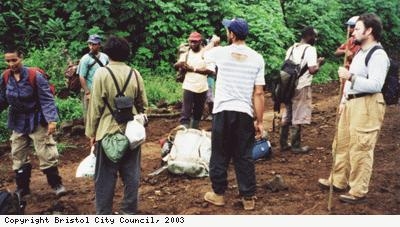 Description:
Getting ready for the trip to Ureka. (Words of Beaula McCalla.)
The television crew who joined Beaula McCalla, an Afrikan-Caribbean Briton, on her long trek to the south of Bioko Island, Equatorial Guinea, Africa. Here, she met her blood relatives, the Bubi people.
Equatorial Guinea was a former Spanish colony.
Date: 2002
Copyright: Copyright Beaula McCalla
Page 1 of 1 pages