---
Page 1 of 1 pages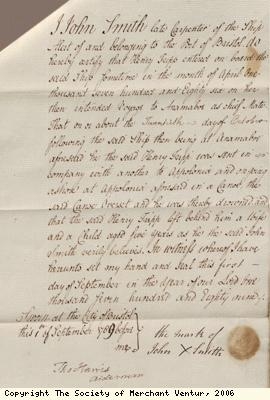 Description:
Witness statement from John Smith, carpenter on the ship, the Alert, in support of a petition from Ana Tripp.
Smith states that Henry Tripp, chief mate, was drowned at Anamaboe in West Africa, leaving a wife and child.
Financial Help was given by the Seamens' Hospital Fund. The Fund was the result of an act of Parliament in 1747.
The Society of Merchant Venturers managed the National Insurance Scheme for Bristol, so petitions for help were addressed to them.
The Society of Merchant Venturers is a Bristol-based organisation, which was formed in 1552 as an elite body of merchants involved in overseas trade. The Society still exists today.
Date: 1st September 1789
Copyright: Copyright The Society of Merchant Venturers
Page 1 of 1 pages