---
Page 1 of 1 pages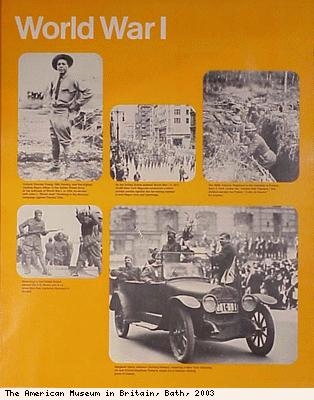 Description:
Poster: World War I .
Top left picture
Colonel Charles Young, 10th Cavalry, was the highest ranking black officer in the United States Army ay the outbreak of World War I. In 1916, he served with John J Black Jack Pershing in the Mexican campaign against Pancho Villa.
Top middle picture
As the United States entered World War I in 1917, 15,000 black New Yorkers conducted a silent protest parade against the increasing number of anti-black riots and lynchings.
Top right picture
The 369th Infantry Regiment in the trenches in France April 4, 1918. Called the Harlem Hell Fighters , this division earned the French Croix de Guerre for bravery.
Bottom left picture
Returning to the United States aboard the US Roma, two GIs show how they captured Germans in the war.
Bottom right picture
Sergeant Henry Johnson (holding flowers) receiving a New York welcome. He and Private Needham Roberts wiped out a German raiding party of twenty.
Contributed by John Judkyn Memorial.
Date: 1914 - 1918
Copyright: The American Museum in Britain, Bath
Object ID:74.179.10
Page 1 of 1 pages